Personalised corporate wine with your logo on the label
Christmas is the perfect time to add your company logo and greetings to gift bottles of classic champagne, bubbly prosecco and gorgeous red and white wines. At Wines Select we specialise in customising corporate wine gifts to suit every taste and budget.
Impress and delight with your own corporate branded wine
Whether you choose a glorious deep ruby Merlot, a crisp, aromatic prosecco or a luxury magnum of champagne, when your wine is bespoke to your business and personalised it will be so much more special.
Your brand on the bespoke label
Corporate personalised wine makes a unique and unforgettable gift and is a wonderful way to promote your business and brand. Our wonderful business Christmas wine gifts can be customised with your company's branding and seasonal message, from a personalised wine label to beautiful personalised festive packaging.
The one-stop corporate wine and champagne gift service
We work with all kinds of businesses to supply their beautifully presented festive wine and champagne gifts, which we ship all over the UK. Our one-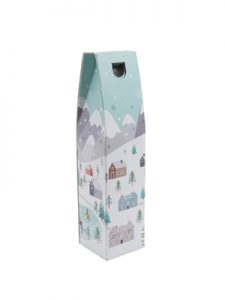 stop business wine gift service makes it so easy to for you to treat colleagues, clients and suppliers at this busy time of year.
Order your personalised wine now in time for Christmas
Don't miss out, order your personalised corporate champagne, prosecco and wine gifts now. We're here to provide you with customised labels, festive packaging and a first-class delivery service.
Get in touch us today to place your Christmas wine order and we'll take care of the rest! Please call us on 0330 133 5135 or email sales@winesselect.co.uk and get ready to toast the season with terrific tailored business wine gifts.