Wines Select supplies corporate wine gifts for a leading technology company. At Christmas the company, which has offices all over Britain, likes to treat each client and 300 staff to a gift of two bottles of wine.
The gifting process starts with us putting forward different wine recommendations to fit the company's budget. As some of the recipients do not drink alcohol, we also suggest a range of non-alcoholic ideas, which we are able to source. At this stage, we also present a selection of Christmas gift packaging ideas.
Bespoke Christmas business wine gifts from selection to delivery
After the corporate wine gifts and packaging have been selected, we receive a list of office addresses with contact details, the quantities required for each office and the designated delivery date. Ordering early gives the Wines Select Christmas team plenty of time to prepare and assemble the gifts ready for dispatch.
Wines Select takes care of Christmas corporate wine and Champagne deliveries
Wines Select ship all over the UK. We can deliver in bulk to one address by pallet or deliver smaller quantities direct to multiple addresses. We handle every aspect of the order to ensure the Christmas wine gifts are delivered in perfect condition.
Karen says: "For bulk orders of 50 bottles more, I use our pallet delivery company. For smaller quantities I book our specialist liquid overnight courier. On the day of dispatch, I'll co-ordinate the collection of the goods and track the order, keeping the client updated as required."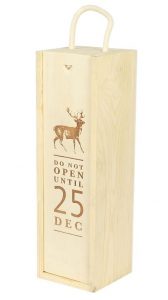 A large business Christmas wine gift order like this is complex and requires a great deal of attention to detail. That's why leading firms rely on Wines Select to provide the corporate wine gifts they need.
Let Wines Select take care of your business wine gifts this Christmas
At Wines Select we can accommodate most scenarios of business wine and Champagne gifts and are happy to deliver to you or fulfil on your behalf to clients, staff, suppliers or customers. We can personalise corporate Christmas wine or Champagne gifts with your seasonal messages and greetings and even include your own branding.
Simply place your Christmas order with Wines Select and we'll take care of the rest.
Get in touch today to place your Christmas wine order
Wines Select can customise business Christmas wine and Champagne gifts to your specification and budget. Please call us on 0330 133 5135 or email sales@winesselect.co.uk and we will be delighted to advise you.