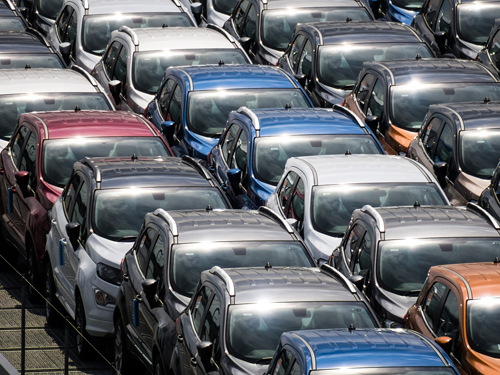 Branded wine and corporate wine gifts are increasingly popular promotional, marketing, and celebratory products for the automotive industry. Wines Select has supplied wine for all kinds of firms in the motor trade, ranging from vehicle and parts manufacturers to car dealerships, car rentals and garages.
In the automotive sector, quality and innovation are key success factors, which is why the bespoke wine Wines Select supplies fits the grade for gifts, hospitality wine at trade events or celebratory drinks at any motoring or motorsport occasion.
Sharing exclusive customised bottles of fine wine featuring your own label has been shown to foster good relationships with your clients, employees, suppliers, and contractors.
Bespoke wine as a marketing tool in the motor trade
If you work in the motor industry, having your own branded wine and champagne bottles means you'll always have the perfect celebratory bottle or rewarding gift on hand whenever you need it. Personalised, bespoke champagne, prosecco and other bottles of fine red or white wine are an effective way to build your business reputation.
Celebrate a successful deal or project
Success deserves recognition. Why not celebrate the occasion by sharing your own business-branded champagne or prosecco? Customised wine is a unique and memorable way to celebrate any success in the motor trade or automotive sector and thank your team or suppliers for their input.
Personalised wine for corporate gifts
Corporate champagne and personalised wine gifts are designed to show your company's appreciation. Whether for a supplier, client, or colleague, giving them a special bottle of wine with a bespoke, personalised label, says, "We are thinking of you, and value our relationship." Wines Select can put together gifts with your personalised wine label and branded packaging.
Corporate wine and bespoke labelled wine bottles for the automotive industry are ideal for:
Event wine:  Having your own wine bottles showcasing your logo will increase awareness of your business and brand and ensure attendees remember your company after the trade show or event.
Promotional items: These days simply posting an ad online or advertising in the trade press isn't enough to cut through. Promoting your business on a high-quality bottle of wine will get your brand into the right hands in a memorable and stylish way.
Donations:  Associate your automotive business with community spirit and generosity by donating branded bottles of wine to a charity auction or other fundraising event.
Wines Select has years of experience tailoring wine bottles and wine gifts for the automotive industry and motor trade and we would be delighted to do the same for your business.
Choose Wines Select for your motor trade wine
Personal service, stunning wines, and a quick turnaround are the reasons why businesses in the motor trade and automotive sector trust Wines Select to take care of their corporate gifting and events requirements. With many years of experience in supplying bespoke labelled wine and corporate wine gifts, you can rely on our expertise to deliver on budget, on brand and on time.
Promote your company with customised labelled wine
We would be delighted to work with you to create a bespoke wine label for your business. Our wine bottles can be customised with your logo, and if the wine is a gift with a personalised message for a client or supplier, we can deliver direct to their door. Our customisation service also includes presentation packaging which can be branded too.
Please call us on 0330 133 5135 or email sales@winesselect.co.uk or use our online enquiry form for more information. We look forward to hearing from you.