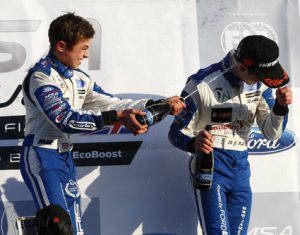 Corporate personalised Champagne and Prosecco bottles are a prestigious way to promote your brand name, especially when the bubbly is part of a sports event like the winner's celebration in a racing competition.
Sharing in the sporting success
Wines Select has been supplying Champagne and Prosecco to well-known motorsport companies for several years. The personalised bottles are branded with the company's corporate logo and presented to the driving champions. Races take place all over the UK and Wines Select ensures the personalised Champagne is delivered on time and in perfect condition.
A sparkling service from production to delivery
At Wines Select we ship all over the UK. We handle every aspect of the order to ensure the personalised Champagne and Prosecco bottles are delivered in perfect condition. Karen says: "The company simply emails us the list of race dates and locations, along with the quantities required and we handle the rest. On the day of dispatch, I oversee the collection of the goods and track the order, keeping our clients updated as required."
Why choose branded Champagne or Prosecco for your special business events
Bottles of bubbly add luxury, glamour and prestige to any sporting or special event. Having your company name showcased in the midst of prestigious events like motor racing is a great way to promote your business. Wines Select personalised Champagne or Prosecco is the perfect, premium way to help your team and associates celebrate in style. It will enhance your brand reputation and promote your business too.
Wines Select can customise Champagne and Prosecco bottles to your specification. Please call us on 0330 133 5135 or email sales@winesselect.co.uk and we will be delighted to advise you.