A personalised branded wine or champagne product that touches all the senses
Personalised, branded wine, champagne or Prosecco offers many opportunities to marketing and advertising agencies. Bespoke branded bottles will be ideal premium quality promotional products for all kinds of occasions from sales events and tradeshows to launch parties and festivals. They will also make impressive giveaways and prizes too. There are very few promotional items which will be enjoyed and shared as much as a bottle of champagne or fine wine.
Customise your wine labels to promote your brand
Customised wine labels are an exciting form of advertising and are proven to be an effective way to engage consumers with your brand and make a lasting, positive impression. Think of the front label as an eye-catching advertising medium, which can reflect your brand values and feature any font, colours, visuals, text and design elements you choose.
Be creative with your wine bottle label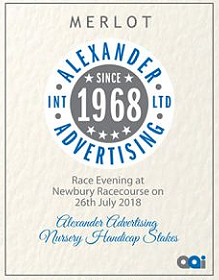 You can choose any theme or style to suit your marketing or brand campaign. The visual treatment could be seasonal or topical; or you might want to appeal to your target audience's interest, such as sport or fashion for instance. The wine or champagne label is like a blank canvas. You will have free rein to create your label in any style, whether that's traditional, modern, elegant or fun. You could even include interactive elements such QR codes to link with your brand's social channels.
At Wines Select we offer high-end graphic design, printing and label application all under one roof. Simply provide us with your logo, photography or other imagery and text, and our graphic designers will create a range of label options for you. Alternatively, your creative studio can produce the artwork for us to print.
Bespoke presentation packaging can be supplied for your bespoke wine or champagne bottles too.
Partner with Wines Select
We handpick impressive wines from award-winning vineyards, so you can be assured our wines are of the finest quality. With over twenty years' experience in bespoke labelled wine, you can rely on our expertise and track record to deliver a fast and reliable service. Our expert team are here to offer guidance and advice throughout your entire project, from selecting the wine from our award-winning range to securely delivering the bottles to the right location. Everything we do can be tailored to your exact requirements.
Please call us on 0330 133 5135 or email sales@winesselect.co.uk if you would like more information and we will be delighted to help.