There are numerous occasions which would be enhanced by having personalised corporate wine labels or business branded wine gifts. Bespoke customised labels make generic bottles of wine extra special and memorable and are an innovative way to promote your business, organisation or brand. Personalised wine bottles will often become keepsakes after the wine has been enjoyed too.
Bespoke corporate branded bottles of wine are a distinctive way to:
Thank clients, employees, and other business associates.
Toast a business achievement or company milestone
Welcome a new employee or celebrate a retirement
Maximise the impact of a PR campaign or product launch
Give to guest speakers and presenters at a conference
Present as a prize for a competition or staff incentive program
Offer as auction items to raise money for a fundraiser
Use as an innovative invitation to your next big event
Add prestige to the opening of a new store, office or branch.
Celebrate a colleagues' or clients' birthdays, anniversaries or weddings.
Wines Select can design and produce an exclusive custom label for you or we can work with your in-house design team or partner agency to achieve the results you want.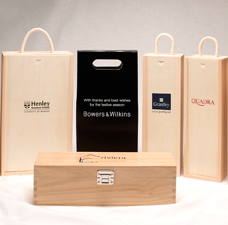 Order your personalised corporate wine today and look forward to raising a glass of delicious wine poured from your very own custom branded bottles.
Call us today on 0330 133 5135 or email our sales team at sales@winesselect.co.uk
Read more about Wines Select bespoke wine and champagne label branding service for business
Why corporate branded wine is great for business
Say thank you with personalised wine and champagne
Trending: corporate branded wine gifts