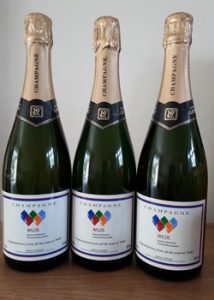 Buying wine or champagne for any large event, especially a wedding, requires advice and planning, and that's how Wines Select can help you with our personalised service.
Wines Select has been supplying wine, champagne and prosecco for weddings, parties and other big events for several decades so we understand how to offer high quality, crowd-pleasing wines at competitive prices. Our friendly wine advisers will be delighted to help you select wines for your big day, customise your bottles with personalised labels if you choose, and then deliver the bottles securely to your venue or caterer. We're here to make the whole process stress free and enjoyable so the wine will flow smoothly on the day.
Expert wine advice for your wedding or event
Our friendly, knowledgeable wine specialists can advise you on the best wines to suit your event and your budget. We carefully select wine and champagne from award-winning vineyards, so you can be sure of the quality and taste. When you've chosen your wine, we'll then set aside the bottles you have selected and arrange delivery to your chosen venue or caterers.
Personalised labels for your wedding or event
Having personalised wine and champagne labels will add to the magic and memories of the day. Our customised labelling service includes design, printing and label application. All you need to do is send us a photograph, title and message and we'll produce an exclusive label to personalise your wedding celebration.
Buy your wedding or event wine with confidence
Wines Select would be thrilled to help you plan the perfect drinks for any celebration. Call us on 0330 133 5135 or email us at sales@winesselect.co.uk to discuss your requirements and let our wine experts do the rest.