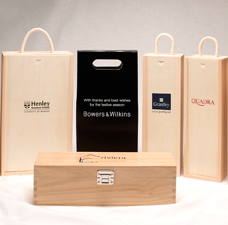 Bespoke personalised wine for new home completion gifts and welcome gifts are a great way to say welcome to your new home, and will make a positive lasting impression to the handover experience.
Whether champagne, prosecco or a fine red or white bottle, a wine gift is ideal for a celebratory drink on your client's first night in their new house or apartment. Add a bespoke branded label, presentation packaging and a personalised gift tag and it will be a truly memorable housewarming gift.
Highly effective housebuilder marketing tool
Wines Select works with housebuilders, estate agents and property developers to provide branded wine gifts for their customers. Our bespoke moving-in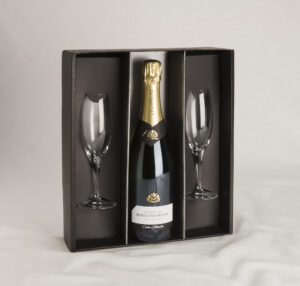 wine gifts and completion gifts are always well received by homebuyers and new residents and are a great way to generate future goodwill and drive positive reviews and referrals. Feedback from housebuilders we work with shows that recipients share details about the wine gift with family and friends, so it's an effective marketing tool for encouraging word of mouth recommendations too.
Wine makes the perfect completion gift for estate agents
Make moving into a new home an extra special experience
Just sold someone the perfect new home? Why not celebrate the occasion by giving your client a personalised luxury bottle of champagne or prosecco to pop when they move into their new home? They can relax and enjoy the delicious bubbly as they settle in to their new abode. It really will make the move an extra special occasion.
Wine is the ideal gift to toast a new home
We would be delighted to collaborate you with you on providing wine gifts to your new residents and homeowners. Our wine bottles can be customised with your company logo and supplied in beautiful packaging with a personalised message for you to present to your clients, or we can deliver direct to their door.
Personalised, bespoke champagne, prosecco and other wine gifts are a smart way to build your business reputation and make your property company memorable.
Personalised labels and packaging
We will closely with you to make the housewarming wine gift unique to your brand. Our personalisation service includes bespoke bottle labels and gift boxes featuring your logo and business colourways.
Bespoke wine gift service to suit your budget
We can customise the wine gifts to your specification, branded with your company logo and personalised message. When you're ready to place an order for a new home welcome gift, you can simply email us and we'll handle all the rest: delivering the gift box to the chosen site, on time and in perfect condition.
Give your clients a sparkling reception
A branded champagne or prosecco gift with two flutes is would be a premium way to help your clients celebrate their new home in style. What could be more rewarding and delightful than unwinding with a glass of something sparkly after a busy moving day?
How wine gifts can benefit your property business
Provide a genuine thank you to clients
Enhance your brand reputation
Drive positive reviews, recommendations and referrals
Save staff time, as gift boxes can be delivered direct to site in time for move-in day
Why partner with Wines Select?
At Wines Select we handpick the finest wines from award-winning vineyards, so you can be assured our wines are of the highest quality. With over twenty years' experience in the corporate wine gifts trade, you can rely on our expertise and track record to deliver a fast and reliable service. Please call us on 0330 133 5135 or email sales@winesselect.co.uk if you would like more information and we will be delighted to help.