Whether you're looking for an impressive boutique wine for your most loyal clients or bottles of sparkling wine to thank your hardworking staff, Wines Select is your perfect one-stop Christmas corporate wine and Champagne gift service.
We work with many businesses to supply their corporate wines and gifts at Christmas. One of these is a major recruitment company which likes to show their appreciation to the people they work with. The beautifully presented business wine gifts from Wines Select are always warmly received and are a highly effective way of generating goodwill at the end of the year.
The gifting preparations begin with first selecting the appropriate wine gifts and festive packaging from our website. The wine gifts vary from Prosecco and chocolates in a wooden presentation box to a single bottle of fine wine. For those recipients who don't drink, we source and supply non-alcoholic beverages as well as other treats such as confectionery.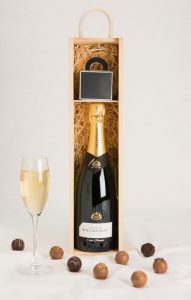 After the gifts have been selected, the next stage is agreeing the accompanying wording of your festive messaging. This can be ready-supplied on your own company headed compliment slip if you prefer.
"The company gives me their list of around eighty names and addresses and I spend time personally checking each one for errors, such as incorrect postcodes or misspelt names," says Karen. "It's so important to make sure every detail is accurate."
The Wines Select Christmas team then prepare and assemble the business gifts ready for dispatch. Then after delivery on the agreed date, Karen checks the courier's website to make sure every delivery has been signed for.
Contact Wines Select for your corporate wine gifts this Christmas
Are you looking for corporate wine gifts for clients and employees this Christmas? Let Wines Select take the hassle and stress out of spreading good cheer. We can put together the perfect Christmas wine gifts to fit your brief and budget. Just call us today on 0330 133 5135 for personalised wine and Champagne recommendations, customised messaging and a fast turnaround. Or send an email to sales@winesselect.co.uk.
We look forward to helping you.