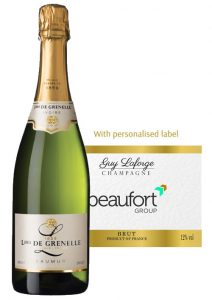 Bespoke branded champagne and personalised wine bottles are an exclusive, effective and elegant way to promote your company and enhance your brand.
Promote your business with style at an event
Bespoke bottles of corporate branded wine with a uniquely personalised bespoke label will make a great impression on the guests at your next event. Wines Select can put your company logo, slogan, event theme, or any custom design and message on the label. Any leftover bottles can be kept and used as gifts and incentives throughout the year.
Make a celebration extra special with personalised champagne
Add memorability and prestige to any special celebration with branded champagne.
Champagne is the iconic celebratory drink as it is so closely associated with special occasions and life's best moments.
Corporate wine is the perfect gift for any occasion
There are numerous occasions where you need that perfect indulgent gift for staff, clients and business partners. Exclusive personalised wine gifts are a great way to say well done, thank you, congratulations or just thinking of you. Such a unique gift really has the wow factor and is sure to delight the recipient. Plus, of course, wine is a treat that can be shared and enjoyed with friends and family, which will mean your gift (and your business) will be associated with good times and happy memories. At Wines Select we can put together the perfect wine gifts for you with your company's personalised wine label and beautiful branded packaging.
Impress clients and show you care
Corporate personalised wine is an excellent choice for a business gift. A branded champagne, prosecco or wine bottle will show clients and suppliers you value them while also enhancing your brand's image. A special touch like this won't cost your business a lot, but a fine wine will always be warmly received and this gift will ensure your business remains in their minds too.
Corporate branded champagne and personalised wine bottles made easy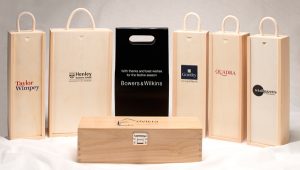 At Wines Select we supply corporate branded and personalised champagne, prosecco and beautifully presented wine for all kinds of businesses. Our personal service, stunning wines, and fast turnaround are the reasons why firms trust us to take care of their corporate gifting and event requirements. Our bespoke service means we can tailor every order to suit your company style, budget and occasion, from company anniversaries and corporate events to staff incentives and seasonal gifts.
Please call us on 0330 133 5135, email sales@winesselect.co.uk or fill in our enquiry form today.
Read more
Christmas corporate wine gifts start early >
Say thank you with personalised wine and champagne >