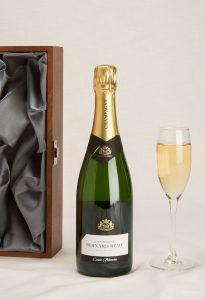 At Wines Select we are noticing a surge of interest from British companies wanting to send corporate champagne gifts to staff working remotely. One of the reasons given is to mark a company anniversary. With covid-19 dampening all social events, it's still important to stay in contact with colleagues and clients and celebrate special occasions from afar.
Corporate champagne gifts made easy
At Wines Select we supply and deliver corporate branded and personalised champagne and wine gifts for many British businesses. Our bespoke one-stop corporate wine and champagne gift service means we can make tailor your order and deliver directly to the recipient's homes.
Stress-free corporate wine gift service
Planning to have bottles of champagne delivered on the same day to many different addresses can be a daunting prospect. That's why all kinds of businesses turn to Wines Select. We'll make the whole process from your first enquiry to the last delivery run as smooth as clockwork.
If you're looking to send celebratory champagne to colleagues or clients, get in touch with us as Wines Select. We can tailor our Champagne and wine gifts to your specification and add personalised messaging too. Please call us on 0330 133 5135, email sales@winesselect.co.uk or fill in our enquiry form today.