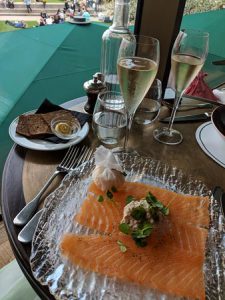 This Easter weekend won't be the same as usual. Get-togethers with family and friends will have to wait until later in the year. Even so, we can still make it a special time to relax and enjoy good food and wine.
We've put together some delicious wine pairing ideas for you, which will hopefully inspire you to treat yourselves and raise a glass to better times.
GOOD FRIDAY
It is traditional to eat fish on Good Friday. So, whether you opt for fish and chips, baked salmon, fish pie or a seafood supper, here are some lovely wines to match.
Fish pie
A white wine with citrus undertones will cut through creamy dishes. Try a Sauvignon Blanc like Cape Heights Sauvignon Blanc (South Africa) or Marlborough (New Zealand) or Chateau L'Ermitage Auzan Blanc (Southern Rhone, France).
Sea bass
Sea bass has a delicate flavour and would pair well with an elegant Chablis such as our outstanding Domaine Daniel Seguinot Chablis Premier Cru.
Salmon
Whether baked or grilled, a warm salmon dish would suit the wine style of a quality oaked medium bodied Chardonnay such as Soldiers Block Chardonnay (Western Australia).
EASTER SUNDAY
Starter: Smoked Salmon
Pair this classic starter with a glass of our stylish Amata Prosecco or a glass of Champagne Bernard Remy Carte Blanche NV Brut. 
Main: Roast Lamb or Chicken
The best wine to pair with traditional roast lamb? It's got to be red; and a rich, dark, juicy Rioja is a classic pairing. A silky Pinot Noir from Burgundy would be a wonderful match too.
If you're having a chicken roast and love red wine, do try Borsao Garnacha (Spain). If you would prefer white, serve a Burgundy alongside, like Clos de L'Eglise Macon-Charnay, or fragrant Cline Cellars Viognier from California with its fruit and floral notes. Just perfect for spring.
Dessert: Anything chocolatey
Chocolate and wine are notoriously difficult to pair, but get it right and it's a blissful combination! A dark chocolate torte would be delicious with a full-bodied Shiraz like our Australian Soldiers Block Shiraz with its plummy fruits; or something bold and spicy like our Cline Cellars Zinfandel. With milk chocolate, sweet fortified wines such as Port or Sherry should be a successful pairing. White chocolate can work well with Chardonnay or Champagne.
It's really all a matter of taste though. There are no hard and fast rules. Just find a pairing that works for both the dish and the drink. The best way is to experiment, you might just discover something really special. Do let us know about your perfect pairing.
Happy dining and drinking!
If you would like more information about selecting wines or Champagne for a business gift or future corporate event or would like to order please call us on 0330 133 5135 or email sales@winesselect.co.uk. and we will be happy to help.