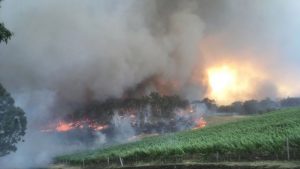 Australia is still grappling with the devastating wildfires, which have destroyed many vineyards that have taken generations to grow.
Wine Australia Chief Executive Officer Andreas Clark said in some regions of South Australia, New South Wales, Victoria and Queensland individual vineyards and wineries had suffered catastrophic damage which would take years to recover. The majority of the vines that have been affected are in Adelaide Hills in South Australia, which has lost a third of its vines.
Wine producers don't just face the direct impact of the blazes, however, but also smoke damage, or so-called "smoke taint".
Recent floods, hail and dust storms have now added even more catastrophic damage to fire-ravaged vineyards. And extreme weather looks set to escalate as temperatures threaten to soar again.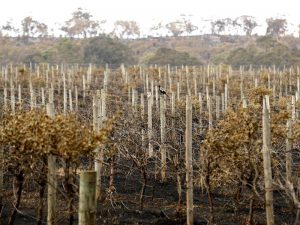 "Australia is hurting from the fires, but we are open for business," said Tony Battaglene, Australian Grape and Wine Chief Executive. "We need donations to the relief funds, support for our emergency services, and consumers to buy our wine and visit our regions."
"As stockists of some of Australia's loveliest wines, we have been terribly shocked and saddened by this awful crisis," says Karen, of Wines Select.
Many in the UK drinks industry are supporting #Australiaisburning relief efforts for those farmers, growers, producers and winemakers affected.
At Wines Select we will make a donation of £2 for every 2 bottle Australian gift sold prior to 29 February 2020 and £1 for every bottle of Australian personalised wine ordered by 29 February 2020. The donations will go to the Adelaide Hills Wine Region Fire Appeal. We do hope you are able to support this initiative by ordering your Australian wine gifts or personalised wine for colleagues, clients or corporate event from us at Wines Select. Thank you.
For more information read the BBC's simple guide to the Australia bushfires.