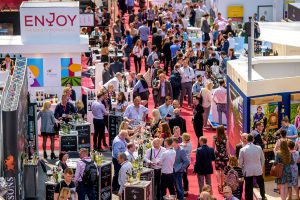 Sampling the world's greatest wines, meeting other wine experts and learning about the latest trends – it's all in a day's work for specialist wine suppliers like us.
This year's prestigious 39th London Wine Fair, a three-day event from 20th to 22nd May, featured 14,000 wines from 32 countries, curated tastings, industry briefings and an exciting Innovation Zone showcasing new non-traditional wine styles such as fruit wines, blue wine and bourbon aged wines. So, as you can imagine, it really is an unmissable destination for anyone in the business of wine.
Discovering the best new wines for you
An international trade event like the 39th London Wine Fair in Olympia gives us the opportunity to source the most interesting wines for our personalised wine and corporate wine gifts. At Esoterica, one of the outstanding parts of the show, you can be introduced to some amazing niche wines from passionate buyers. And at Wines Unearthed, you can meet producers who are set to import into the UK. This means you can seek out phenomenal still and sparkling wines and champagnes that are yet to feature on other UK wine lists, shelves or websites.
The London Wine Fair is also a chance for us to top up our wine knowledge, with masterclasses on wine regions and styles to skills training on topics such as nosing, food and wine pairings and assessing quality, run by the Wine & Spirit Education Trust (WSET).
Some of this year's 39th London Wine Fair highlights
Oz fizzes with fun
Wine expert and TV presenter Oz Clark promoted his latest acclaimed book, 'RED & WHITE, An Unquenchable Thirst for Wine'. It's a very engaging read and sparkles with Oz's passion for wine. If you love wine, want to know more about wine and be entertained with Oz's irrepressible wit and humour, you'll enjoy Oz's latest book.
Red, red wine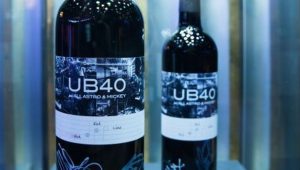 Britain's biggest reggae band UB40 released their own limited-edition wine called 'Red Red Wine' named after their 1983 smash hit. As you can see it's great example of a personalised wine label! Perhaps it will inspire the label design for your personalised corporate wine or Champagne bottles. Collaborations between high quality wine and celebrity or music brands are continuing to develop as a new way to engage with a wider audience of consumers and give them a special experience.
Please call us on 01403 752035 or email sales@winesselect.co.uk if you want more information on corporate wine and champagne gifts or personalised wine and Champagne.