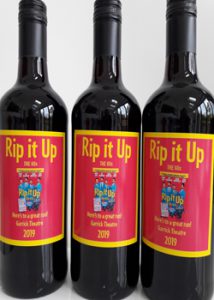 There are many different terms for personalised corporate wine labels; these include branded wine bottles, bespoke wine labels, corporate wine labels, custom label wine, own label and private label wine. Whichever term is used, one thing is certain, personalised wine bottles, with your own company branding on the label, are growing in popularity.
Having your own customised label on the front of a bottle of fine wine will add prestige and memorability to any occasion and is an elegant way of promoting your brand and business. Your label acts rather like an advertisement for your company or brand, which people will notice when they are pouring and enjoying the wine.
A personalised wine label is a unique way to get your message across.
Your personalised corporate wine label can contain any imagery, text or information you want. The whole of the front label on the bottle is available for you to maximise the impact of your branding. There are no restrictions to what can appear in the space on your own, full colour, branded wine label. Simply send your artwork to us and we'll produce and print the label to your specification. Or you can brief our in-house design team to create the label for you. At Wines Select we design, print and apply the highest quality labels for our clients.
Bespoke branded wine labels for corporate events
Bottles of corporate branded wine with your company's own personalised bespoke label will enhance the event and elevate your business in the eyes of event goers. The design of the label could feature your company or brand logo and colours, a photographic image, text, or it could be specifically tailored to match the theme of the event. With the right messaging, the uniquely-labelled wine bottle will serve as a superb memento for the event. This will be especially effective if you give the bottles as souvenirs to guest speakers and participants after the event.
Whether you're hosting an event to launch a product, fundraise for a charity, or simply entertain clients, providing wine from your own personalised bottles will add an exciting dimension to the occasion and ensure the event is remembered.
Personalised wine makes an ideal business gift
Bespoke business wine gifts are a great way to congratulate or thank clients, staff or business associates. Your own company's branded wine bottle is an impressive gift and will show every recipient how much you appreciate them while also promoting your brand image.
An elegant bottle of personalised wine is a stylish corporate gift that will be warmly received. Everyone loves to be given a bottle of fine wine, and when it is adorned with a bespoke label the gift will be even more special and memorable.
Wine is also a treat that usually gets shared and enjoyed with friends and family, which will further boost goodwill towards your business. At Wines Select we can create the perfect corporate wine gift for any recipient with your company's personalised wine label and bespoke packaging.
A bottle of personalised wine is like two gifts in one – the bottle and the wine itself.
Branded wine for your business and personalised wine labels made easy
At Wines Select we supply corporate branded and personalised wine for all kinds of businesses. Our bespoke service, handpicked wines, and fast turnaround make us a trusted supplier of customised wine for corporate gifts and functions. Wines Select can tailor your order to fit your budget and needs, whether that's for a company party, a business event, or to give as presents.
Please contact us today to discuss your personalised corporate wine labels or bespoke business wine gifts.